Summary of the main results of the Conference -

August 22nd, 2022

 

The Conference gathered 520 participants (40% women), 20% of them online, from 58 countries coming from Europe (62.7%), Africa (25.3%), Asia and Oceania (7.2%) and the Americas (4.8%).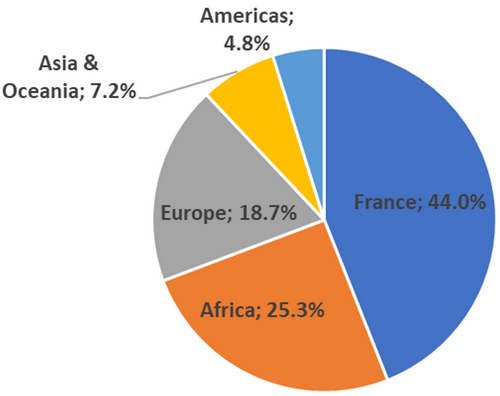 As a multi-stakeholder conference, it gathered not only groundwater specialists but also managers of public and private water utilities, decision-makers, funders, industrialists, NGOs and representatives of the civil society... 40 speakers benefited from a financial support from UNESCO or IRD for their participation.
9 invited speakers (including 4 women)
introduced the 63 sessions of the program, including:
31 Technical Sessions (380 oral presentations and posters)
20 Round Tables
6 Workshops
and 4 Training Sessions
This summary was prepared based on the feedback from the working groups and the reactions expressed during the sessions.

Main results: The findings

Groundwater is invisible, but it plays a key role in achieving many of the 169 SDG targets by 2030. This includes:

Drinking water and hygiene (SDG6). Available in large quantities, in the immediate vicinity of the places of consumption (wells, boreholes), they are generally of better quality than surface water, or require lower treatment costs. This has a positive impact on :

Gender issues (SDG5), women's education (SDG4), participation in the economy and development (economic development, SDG8), the fight against poverty (SDG1), inequality (SDG10), peace (SDG16)...
Public health (SDG3)…
In arid and semi-arid crystalline rocks areas, which are widespread in Africa, they can contribute significantly to SDG6 (rural and peri-urban areas), but the quest for "high discharge" wells is illusory.

Food production (SDG2). They already contribute for nearly 50% to irrigated agriculture and are also widely used for livestock.

A greater contribution of groundwater is possible to increase the agricultural production necessary to meet the world's food needs, but it must be done while respecting the renewable resource, implementing groundwater-saving techniques and relying on innovative agricultural practices.
There is a need for information and education on the observed overexploitation of groundwater due to agricultural uses.
Agriculture is also an important factor in the degradation of groundwater quality.

Clean energy resources (SDG7), with the valorization of the Earth heat through groundwater (geothermics). They can also provide a link towards the energy transition and the circular economy (SDG12).
Biosphere: Ecosystems and Biodiversity - Aquatic life (SDG14) and ecosystems (SDG15) are largely dependent on groundwater (groundwater/river relationships and wetlands).

Improved knowledge of groundwater has led to the development of new knowledge and innovations such as:

Basic concepts/laws of the water cycle, fluid transfers
Operating and monitoring techniques (quantity and quality)
Numerical models and forecasts
Principles of shared governance:

At the basin scale for a better consideration of the water cycle, groundwater/surface water relationships, transboundary and coastal areas
At the local scale, understanding and valorization of the stakes/stakeholders/vocal knowledge

Development of rights and basic rules, participatory science in environmental monitoring, awareness and policing
Linkages between all SDG targets (e.g. via the Water4allSDGs tool).
The transversality of groundwater allows a holistic approach of the SDGs which is the business of all stakeholders: managers, hydrogeologists, technicians, financiers, industrialists, NGOs, etc.
Main results: What needs to be done

« Demystify complexity »
Make groundwater visible and understandable to all (SDG framework for non-groundwater specialists)
Knowing and communicating their potential
Engage and empower youth to take initiatives and challenges
There is every reason for us to act now. Groundwater should definitely be included in the overall contribution of water to the SDG targets.

Main results: Actions now

Develop Concepts/Models/Local Governance/Shared Management. This includes:

Integrated local water governance
Consideration of global change. Groundwater must be included in the IPCC simulations of future changes
Integration of groundwater in economic/ecosystem programs (human activities/biodiversity)
Explanation of the time needed and its inclusion in operational programs / the need to be patient

Seek innovations at all levels: methodological, technological, societal, economic. Ecosystem services and nature-based solutions are part of the solution.
All actors must innovate: public and private operators, local and national authorities, civil society, etc.
Groundwater must play its role in future transitions.
There is a need to monitor and evaluate the effectiveness of actions, with particular attention to:
The role of Youth
Decentralized cooperation to be developed (e.g. French Oudin-Santini Law to be adapted to new contexts)
Research to be intensified, generalized, adapted to the needs of knowledge and management (SDG9).
The proposed suites:
7-8 december 2022 Paris, UN-Water Summit on Groundwater (UNESCO HQ)
March 2023, New York - UN Water Conference

The « Agenda 2030 », the 17 « Sustainable Development Goals » (SDGs), their 169 targets and their 240 well attended indicators, multinational and multilateral roadmaps, constitute a great message of hope for the future of human societies and terrestrial ecosystems, currently facing the impacts of global change.
Within this framework, groundwater resources (GWR) have a key role to play, directly in terms of food, hygiene and health, protection and restoration of ecosystems and biodiversity … and, indirectly, for the reduction of poverty and inequalities, contribution to education and gender equality, peace.
CONFERENCE PLACE
  Campus Pierre et Marie Curie
  International Conference Center
  4 place Jussieu - 75005 PARIS


To promote a wide participation and a quality interaction between the participants, the conference will benefit from a simultaneous French-English / English-French translation (on site and online).
Ambition of the conference
Constitute a meeting point to promote exchanges between the different national and international stakeholders in the fields of water and sustainable development:
decision-makers, from the international level to local authorities, like Water Agencies, basin authorities and local structures for management and protection of groundwater...

funding agencies and donors

NGOs, civil society, local communities, farmers, water and sanitation companies, industries...

groundwater resource specialists: scientists, national and local authorities, planning authorities, engineering firms, consultants...
Main objectives
Examine the overall relationships between water-related SDG s, their stakeholders and groundwater

Share knowledge, experiences, findings and good practices on GWR in sustainable development trajectories

Elaborate recommendations to ensure the best integration of groundwater resources into the SDGs.
Conference process
A prominent locus of expression will be given to the youth : high school and University students, young researchers and professionals ...

Invited speakers (key notes) and presentations by participants (oral communications, poster sessions)

Round tables opened to conference participants - Innovative forms of animation and presentation (summaries produced on the basis of contributions received in advance; themes entrusted to thematic animators, prior to the conference).

COVID 19
Given the importance of the topics covered, the conference will take place regardless of the circumstances. The health situation (COVID 19) may lead to a mixed organization, combining face-to-face and distance (webconference).